Bathroom Inspiration
Bathroom Inspiration
Bath mats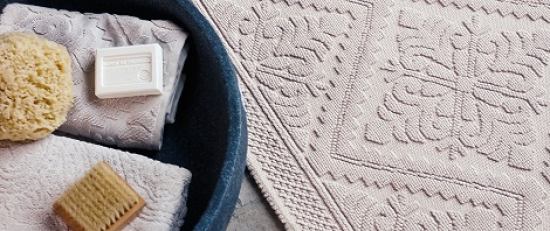 A bath mat has several useful purposes. For example, a bath mat can help to prevent slips and falls, but it also keeps your feet nice and warm. However, a bath mat also has another function: it completes the look and feel of your bathroom! When entering a bathroom, a bath mat is often one of the first things that catch your eye. The choice of a certain type of bath mat can therefore quickly create a certain atmosphere in your bathroom.
Looking for a peaceful feel in your bathroom? Then choose a bath mat from Yumeko or Cawö. These often have calm colours and subtle patterns. For more colours and striking prints, you are in the right place at a brand such as Sealskin or Seahorse. Aquanova offers bath mats in various styles and colours, both bright and colourful as well as calm and soothing.
Towel racks
A towel rack is a great accessory for your bathroom, because it ensures that you can let your towels dry without having to hang them over the shower or bath rim. In addition, a good towel rail or towel rack comes in handy if you want to hang your towels close to the sink within easy reach. The design of towel racks is generally fairly simple and sleek, but in our range you will find various designs. You can choose to use a freestanding towel rack or a towel rack that you have to attach to the wall, for example.
We here at Bathroom Boutique have included towel racks from Blomus, Tiger, Aquanova, Zack, Decor Walther, and many more in our range. You can choose from various colours, materials, and designs. Wondering if there is something for you? Take a look at the complete collection here at Bathroom Boutique!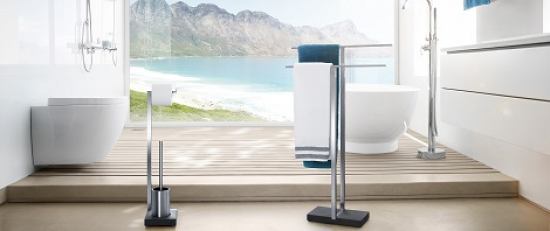 Soap dispensers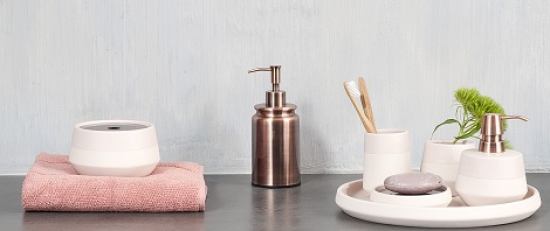 Soap dispensers and soap dishes are very nice to combine in your bathroom and are also very convenient to use. By choosing a soap dispenser instead of a plastic bottle from the supermarkt, you can create your own style in your bathroom. For example, do you prefer a quiet atmosphere / Hammam-inspired look in your bathroom? Then choose a soap dispenser and soap dish in subtle, natural colours and with round shapes. Materials such as earthenware, wood, and stone come into their own. Prefer something modern? Then choose a soap dispenser with right angles, clean lines, and made from materials such as glass, stainless steel, or plastic.
Here at Bathroom Boutique, you will find an extensive range of soap dispensers in all kinds of colours, sizes, and materials. We offer you options from quality brands, such as Aquanova, Sealskin, Tiger, Blomus, and many more.
Laundry baskets
A stylish laundry basket is an absolute plus for your bathroom. Bathroom Boutique has an extensive range of laundry baskets in all shapes and sizes, so you are assured to find something that complements your bathroom design. Laundry baskets from quality brands such as Aquanova also have the advantage that the laundry can breathe well, so that your clothes do not suffocate. This prevents bad smells in your bathroom.
The colours grey, black, beige, and white in particular are very popular colours for laundry baskets in the bathroom. For all these colours and more, you can take a look at the range of laundry baskets from Bathroom Boutique.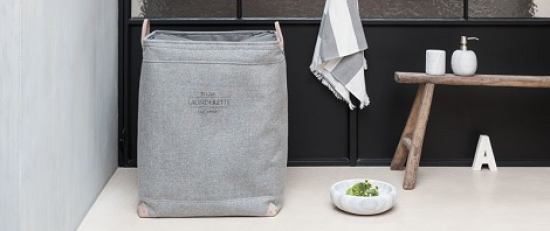 Towels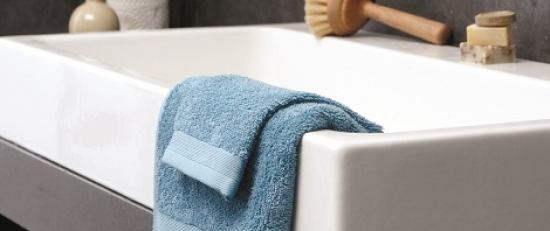 Bath textiles are a simple and convenient way to add color and accents to your bathroom. Almost everyone uses hand towels, washcloths, guest towels, or bath towels in the bathroom. You can easily create contrast by combining different colours or shades. For example, take a dark shade of blue for your bath towels and combine this with a lighter shade of blue for your shower towels. Beautifully coloured towels give your bathroom that little bit more appeal and can be used to create a certain feel or atmosphere.
Looking for luxury quality towels? Then go for brands such as De Witte Lietaer, Aquanova, Yumeko, Marc O'Polo, Vossen, or Esprit. These brands have wonderfully soft towels that retain their top quality and beautiful colour for years.
Bins
A pedal bin or waste bin is a very practical, almost indispensable item for your bathroom. But what people don't always realise is that this can also look great with the interior! View the beautiful bin ranges from Aquanova, Decor Walther, Zone Denmark, or Brabantia for example. These bathroom bins have super stylish designs in various beautiful, calm colours that are perfect for many different bathroom decor styles.
Every year, the brands in our range, such as Aquanova and Blomus develop new collections with bathroom accessories, which the brands adapt precisely to the latest trends in bathroom and living design. Thanks to the timeless designs, however, you can enjoy your purchases from these names for many years to come. Take a look at the beautiful collection of bathroom bins, along with the other stunning bathroom accessories that we have available for you here at Bathroom Boutique.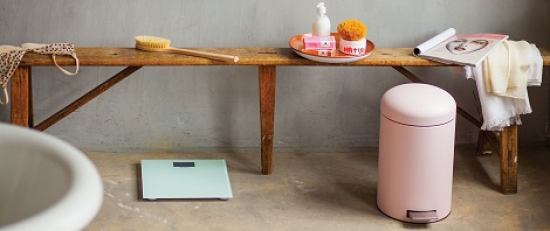 A selection from our bathroom collection: