Towel Quality
Towel Quality
Towel quality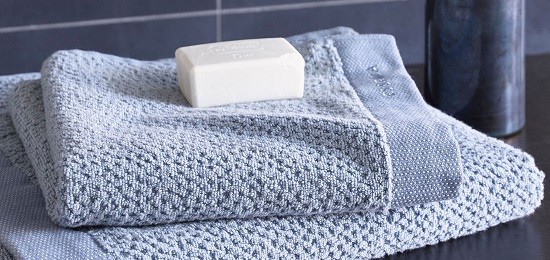 The quality of a towel
As we have already mentioned above, the quality of a towel is very important for the comfort of use. The thickness of a towel determines this quality. In most cases:The thicker the towel, the better the quality.
You can read the exact thickness of a towel from the number of grams per square metre. The higher this number, the thicker the towel. Thick towels logically absorb moisture better, without getting too wet quickly. This means that they have a higher absorption capacity. Moreover, thick towels also feel nice and soft and have a higher durability thanks to the sturdy material. In short, you can enjoy a thicker towel for longer. When a towel is extra thick, it is referred to as hotel quality. These are towels from 550/600 grams per square metre. Hotel quality towels are perfect if you are looking for that little bit of extra luxury in your bathroom.
Towel materials
Cotton towels
Most of the towels in our assortment are made using soft cotton of high quality. Cotton is a 100% natural material that feels very pleasant on the skin. This makes cotton towels very user-friendly. Cotton also has a high absorption capacity, which ensures that towels made of this material absorb water very well. It is certainly for good reason that it is a very popular choice as a material for towels.
Terry towels
Terry cloth is a cotton fabric in which the threads are looped. This process takes longer and is more expensive than the production of normal cotton. However, thanks to the weaving in loops, the surface area of a towel is increased, allowing it to absorb even more water. Terry towelling towels are therefore of higher quality and have a higher durable quality than normal cotton towels.
Linen towels
Linen is a less popular choice for towels, but this material offers one big advantage: it is super durable. Linen is made from flax fibers, which makes the quality extra strong and it is also biodegradable. In addition, linen has a warming effect in the winter and a cooling effect in the summer, so this material is very suitable for towels that will be used in changeable climates.
A selection of our best towels: